We were approached by a company called Jon Jacobs and asked to work on their new luxury watch photography project. They were looking for a studio to photograph their latest timepiece. Inspired by the yachting lifestyle, the watch manufacturer had developed a watch with unique maritime motifs for the modern gentleman.
High-end watch meets high-end photography
The Yachtsman watch took over a year to develop and combines quality craftsmanship with an eye-catching design. After looking at our previous work and portfolio, Jon Jacobs was convinced of our ability to showcase his high-end product. They contacted us directly through our website. 
Even without a price quote, they were willing to work with us to bring the Yachtsman to life. While it was difficult to photograph the watch in the studio, creating a 3D model gave us the creative freedom we needed.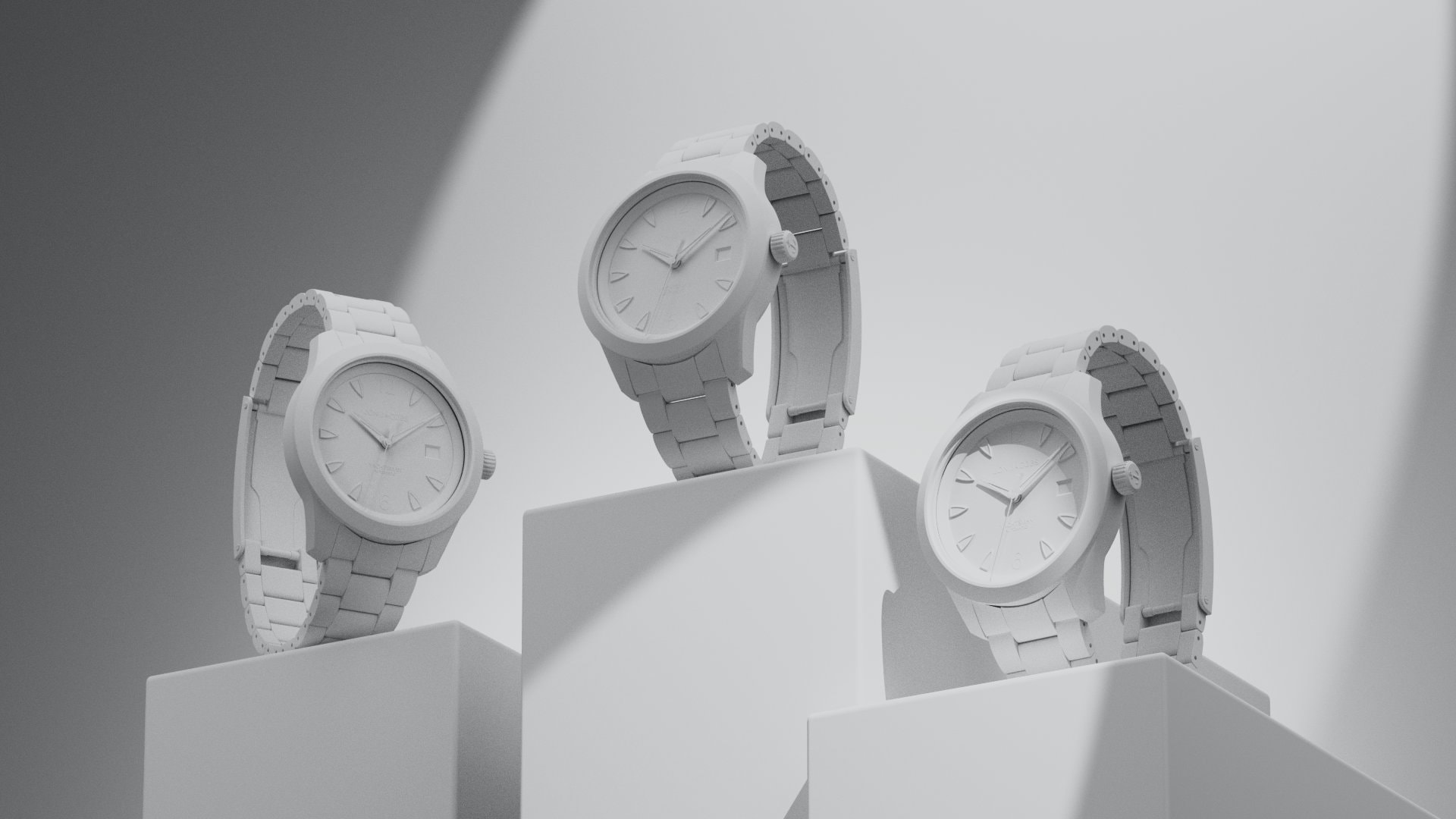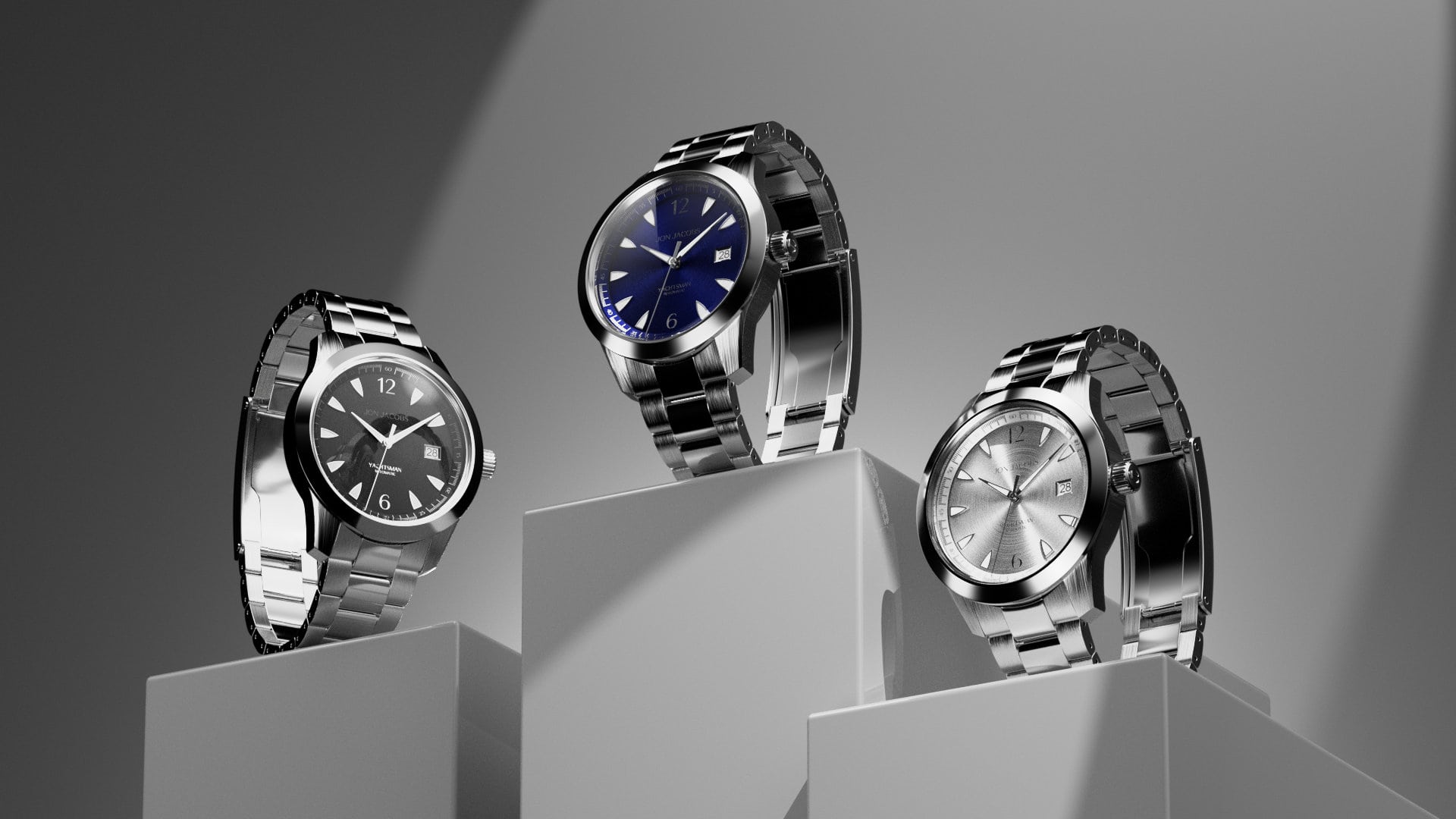 The biggest challenge was incorporating as much detail as possible and using the proper materials for our replica – a stainless steel bracelet and sapphire crystal dial. Once the model was completed, we were able to start preparing scenes for this unique luxury watch photography project.
Clear vision. Clear creative direction.
There are many possibilities in luxury watch photography, and a determined client helped us create the ideal images. 
Soon we were ready to send Jon Jacobs a creative brief explaining the next steps of the project. The brief was quick and articulated.
They also received a video that summarized everything we'd been working toward. Our desired result showed the Yachtsman watch from three different angles and in three different color variations. Maintaining Jon Jacob's vision, we wanted to give the viewer a detailed look at everything that makes the Yachtsman watch so unique.
We were grateful for the good organization and clear direction our client took. They knew their target customers and had clear expectations for their website and images. As a CGI studio, communication is our top priority, so we kept Jon Jacobs in the loop every step of the creative process. Since it's important to strike the right tone, our client sent us a well-prepared mood board. We decided to follow the client's vision and incorporate the calmness and serenity of the ocean. 
Capturing the uniqueness of Yachtsman watch while still prototyping
Most people assume that it's difficult to shoot a product that's still in the prototyping. However, like many other obstacles, this one can be overcome with
CGI photography
. With reference images, almost any product can be replicated in a 3D model. Although the watch wasn't yet on the market, Jon Jacobs provided us with reference images for our work. We also searched online websites and social media for seeds of inspiration. These tools helped us create realistic CGI images, even though we didn't have a physical copy of the watch.
It took over 90 hours of 3D modeling to create a hyper-realistic 3D model. We spent even more time preparing and perfecting the background scenes for our photo shoot. But the end result was worth it.
Not only was the model made of the correct materials, but it also had moving parts suitable for future video animation. Once assembled, photographing the marine watch was a breeze. We focused on the detailed craftsmanship of the product, using CGI technology to edit the lighting and composition.
This project showed us that luxury watch photography can capture the attention of website visitors and potential buyers, even if it's still in the prototyping phase.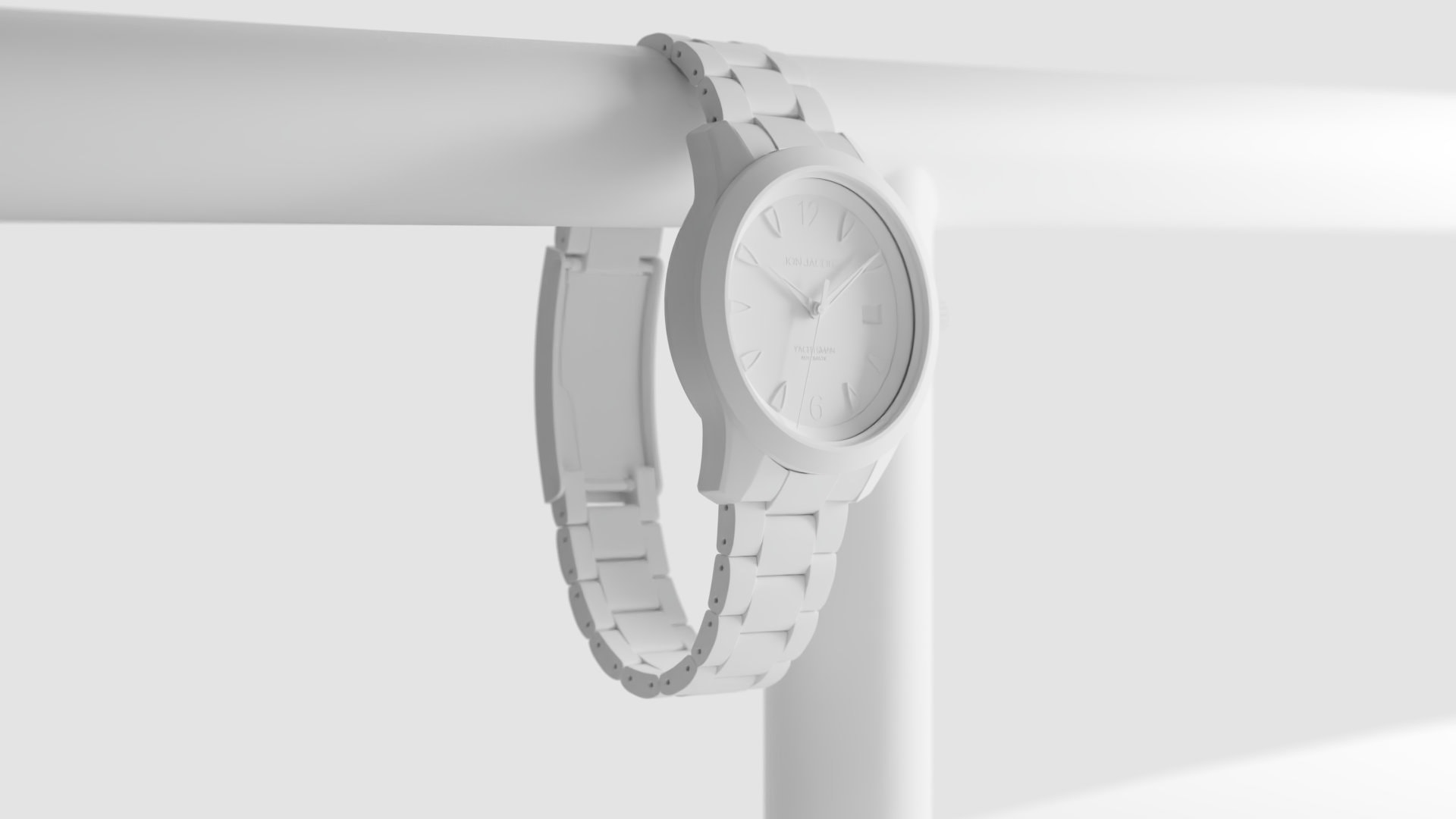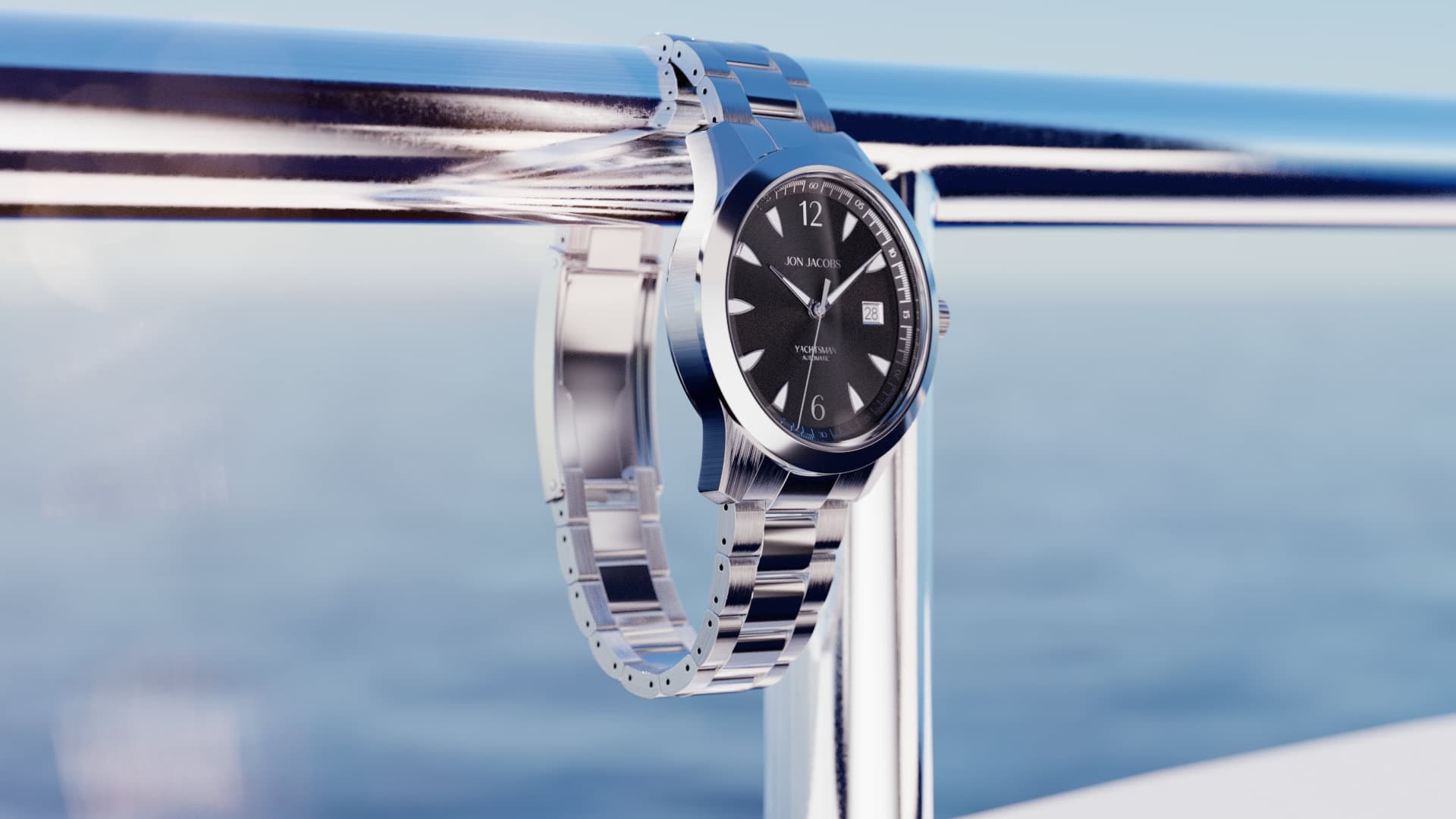 Attention to detail – a timeless success formula
Attention to detail is an important part of any project we undertake, especially when it comes to luxury watch photography. Photographing the Yachtsman watch showcased its craftsmanship and high-quality materials. The creativity led us to photograph more angles than expected, including close-ups of the crown and reflections in the glass. Although glass is difficult to depict, we edited the lighting to give it a realistic shine.
As an experienced studio, we knew that potential buyers want to be confident in the quality of their purchase. Luxury products are held to even higher standards than most. The Yachtsman, like other luxury watches, was a combination of eye-catching design and technology. That's why we used CGI to illuminate the inner workings of the watch. We presented the watch with the back open to reveal the mechanisms inside.
Each image was carefully developed to exceed our client's expectations. CGI can be a powerful tool for companies like Jon Jacobs, but an eye for detail is important to reach the next level of realism. No matter what product we're capturing, attention to detail is the best formula for success.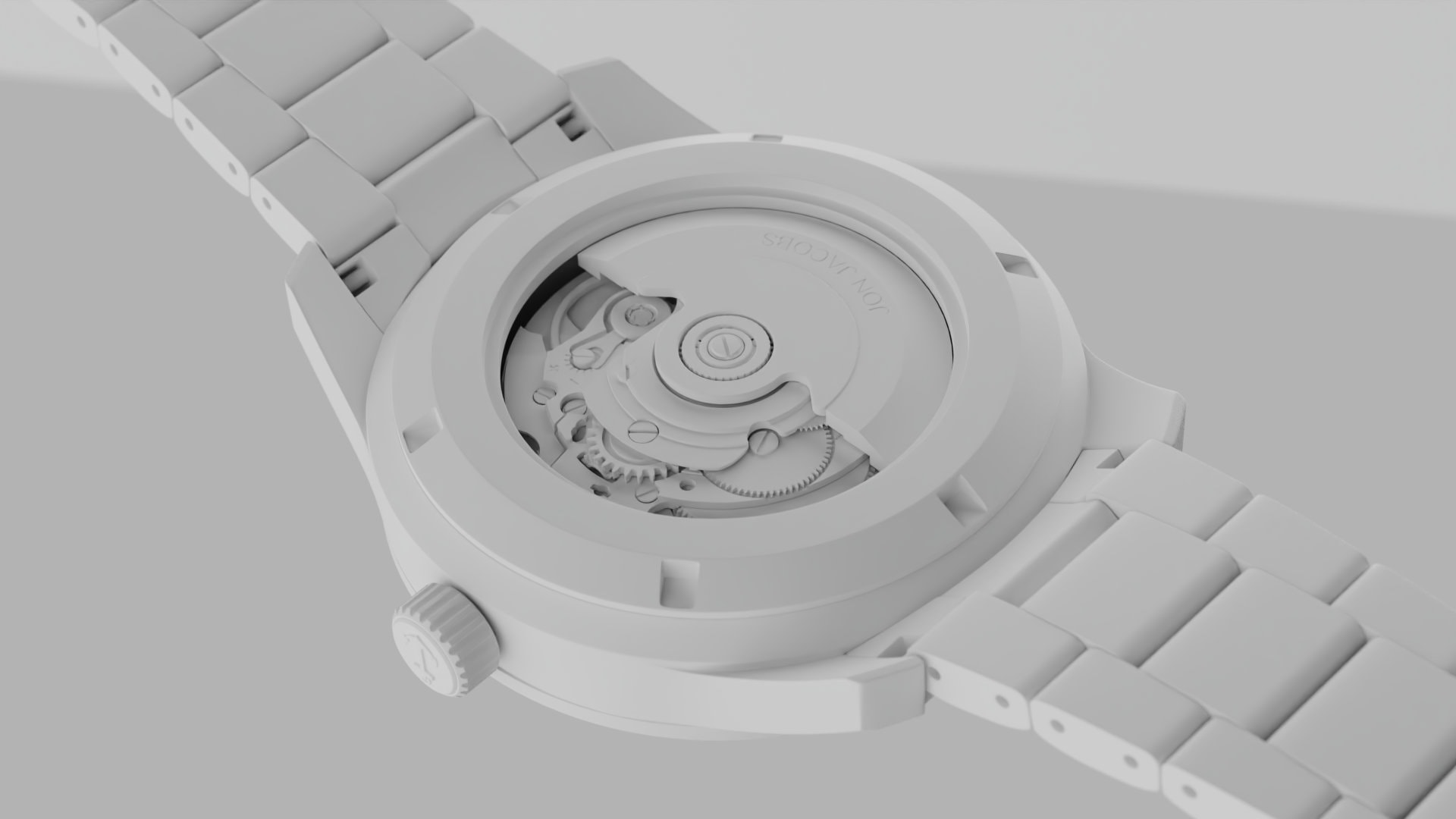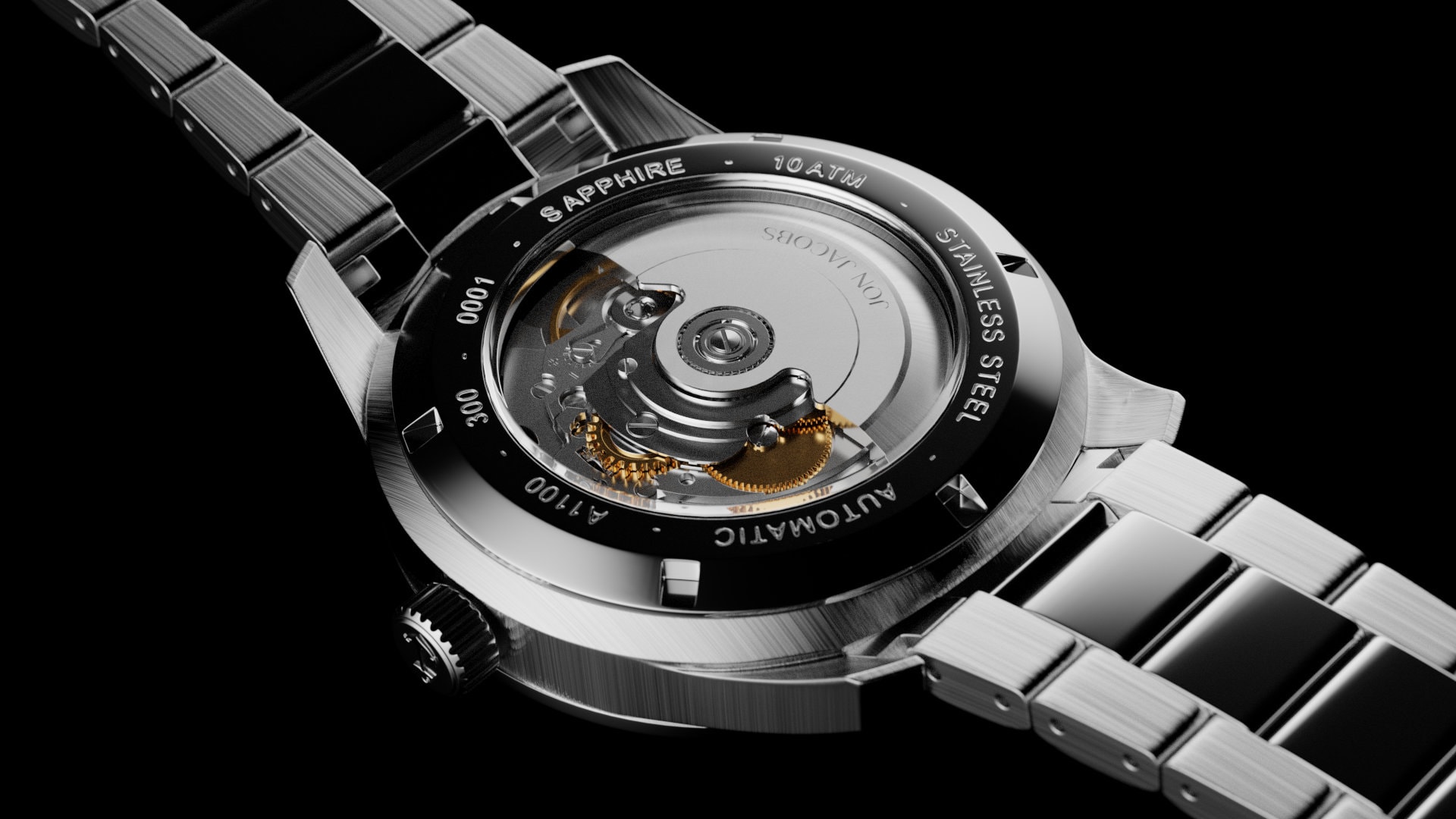 Conclusion
Our client was pleased with the images delivered. They even gave a
five-star review
for our studio. The photos and 3D model will serve as the basis for a future video animation. Although Jon Jacobs never asked for an animation, we decided it would help us expand our portfolio while supporting the watchmaker. We're always on the hunt for new ways to showcase our skills, and we look forward to gaining more experience by bringing the Yachtsman watch to life.
CGI photography not only saves companies like Jon Jacobs time and money, but it also gives us flexibility and creative control. Every brand has an image it wants to portray, and the lighting and backdrop can be manipulated to create the mood. If we discover a mistake, our models can be corrected within a few hours. This was the case when we noticed a missing number on our replica of the Yachtsman watch. Our models never need to be replaced with a completely new copy of the product.
Even products that are still in the prototype phase can benefit from high-quality CGI images. With some reference images and an eye for detail, any product can be recreated in a 3D model. This was the case with the Yachtsman watch, as well as many of our previous clients. Welpix prides itself on providing small businesses with affordable CGI imagery without having to ship products.